Christmastime 2017: Unexpected Gifts
I wasn't sure that there would be a way back into writing about Michael and his journey, and I have missed the experience. There have been plenty of revelations in the past three months since he arrived home from the trail. Objectively speaking, they have all been good, without exception. Both of us have been changed by the PCT and our experiences; I think we would both say for the better.
There is much to this and it has taken me, certainly, some time to carefully unpack what is different. But this I know: the clock is ticking. Michael will not stay home for long now. Before he goes off to whatever comes next, I want to capture this story. So does he. We've talked often in the past three months about how best to do that.
When he first came home, I expected to talk constantly about it. That wasn't the case. He is a calm, quiet, steady and thoughtful communicant. He will readily answer questions about the trail and his months on the hike, and enjoys talking about it. But it was clear that initially, the bigger matter was how to fit back into the world–with people, phones, computers, a job, cars, alarm clocks, beds. (For the first few days, Michael couldn't sleep in a bed. He would get up at night and sleep on the floor.)
So many people ask him, and me, about this experience. He has so many stories to tell, they come out of him out of sequence, sparked by seemingly unrelated events. (Sitting on the patio, swatting at mosquitoes, he mentions the night in the Cascade mountains of Washington when he woke to a rat on his head.)  We spoke early on about the idea of writing a book, a whimsical thought that everyone has, I know. My daughter Molly works in publishing and it's an occupational hazard, being accosted by everyone she meets with the line "I want to write a book…"  I've always dismissed it as an unlikely prospect.
Then my friend Gina told me she was writing a cookbook for her family and friends. She intends to have it printed and available to give to those she loves. It occurred to me then that writing a book could be as simple as just doing it. Just capturing his stories, his pictures, and my experience of his experience, if nothing more, for him and for me. And for anyone interested.
We decided that we should write down our story. I suggested we have a series of interviews, recorded on my iPhone (if he can figure out how I do that.)  He was game. The goal is to capture his hike and his experience of it before he loses the details. He said "that won't ever happen."
Finding time together has proven to be difficult. You can't just sit down and launch into this when you both have jobs and lives and you don't want the time you have together to feel like work. We're in the process of selling our home, and Mike found himself grabbing his computer and setting up shop at the local Starbucks and one day texted me to say, "Ask me some of the questions you have. I want to start writing."
And so it began. Today was the next step. We started our interviews. It was incredibly easy, we talked for nearly two hours and decide to adopt a daily (well, try our best for daily) regiment of one hour conversations. He set up the recording and I grabbed a blank journal.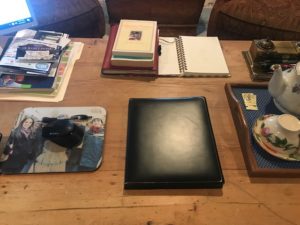 A blank journal. I have perhaps 40 of them. I have a very complicated relationship with journals. I yearn for them, pour over them in museum shops and fine book stores. I have bought so many and I start every one of them the same way: I have never been any good at writing in journals. I just don't seem to have anything to say that merits their beauty and their potential.
I can trace It all back to one journal, given to me by my father in 1977. It's black leather, with gold embossing and cream-colored, line-less pages. It came in a gold foil box which I kept it in for perhaps 32 years, until I moved to Dallas in 2009 and decided to put it directly into my bookshelf where, at least, I could see it.
I never wrote a word in it, because I could never think of a thing worthy of it. By contrast, my sister Shelley was given the same journal in red leather and throughout her teen years, she filled it with extraordinary drawings and journal entries and random thoughts and simply magnificent expressions. I was so intimidated by her boundless energy for celebrating this beautiful gift she had–both her creativity and her enviable red leather–I was rendered frozen with unworthiness whenever I looked at mine. And consequently, every journal thereafter.
Certainly not the effect my father had in mind when he gave it to me. So this morning, as Michael and I set down in my office to begin our talk, I turned around to my bookcase and said "let me grab a journal", and there it was. And in a matter of 15 seconds, I decided to use it. Off to the side of my brain, I said to myself "really? are you sure", and then forged right past that to open to the second page (gotta save the first just in case) and began writing.
As we talked, I scribbled without worry and when I turned to the second page, mindful to keep up with him, I found this: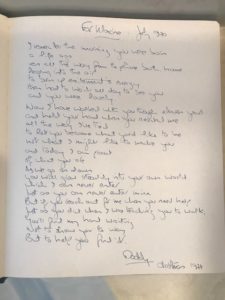 Its a poem my father wrote to me on my 11th birthday. I remember he left it for me when he went to work that day. I was sitting on the floor in our family room in a rental house on Pine Cone Drive in Pittsford, New York when I opened it. We'd just moved from Pasadena California and I was struggling with making friends in yet another new town. I remember reading it and crying. I had a sense of how emotional my father was, despite him being always calm and strong and all-knowing and capable. I remember being delighted to know that I delighted him and being sad to learn that he couldn't entire my life and I couldn't enter his. It was a revelation I didn't want to have.
I wasn't aware that this was here. I have the original poem, so I realize now that he must have kept a copy for himself. It's been forty years since he gave it to me again, in this beautiful book. In those forty years, his poem has traveled, unbeknownst to me, along side me from Brussels Belgium to the United States, to college and to my first adult life in Connecticut, along side my transition from a young girl to a wife to a mother, and then again to my new life as both in Texas. And today, as I sit with my son on the verge of him preparing for his next steps where inevitably he will leave me and go to a world that I cannot enter, I find it.
I don't know what to make of this unexpected gift. My heart hurts but I'm overwhelmingly grateful that this just happened. My strong steady father joined me here today in my office with my strong steady son to help this less-than-steady daughter/mom overcome her self-doubts and begin work on a life-long dream on a work about launching her child. It's a Christmas miracle.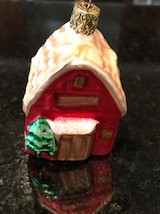 I filled eight pages.
During this holiday season, I hope all of you have moments of joy and kindness and unexpected gifts. Thank you for the tremendous support you've given me this year and for the prayers and well-wishes you've given to Michael. Your presence with us on this journey has been one of the best gifts we received. Rest assured, you'll be in the book.
Best wishes to you and yours.