Day 113: Halfway and PCT Days
After nearly two weeks of silence, I heard from Michael yesterday. It was a long  stretch, to say the least. He's been out of cell range and, it would seem, not attentive to his SPOT devise. He says the tracking function drains his batteries, so he turned it off (hmm). He arrived in Belden, California last Sunday to discover that it was more of a hiker resort than a proper town. There was no cell service and after several visits to a food truck named Maria's Tacos, he headed back onto the trail.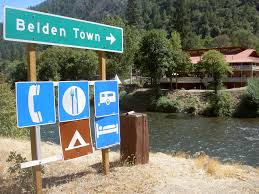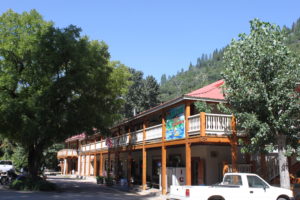 Michael has been walking for 113 days. Earlier this week, he and his companions reached the PCT midpoint. That must be an enormous feeling of accomplishment and relief, knowing that you've got half of this thing under your belt and it's all downhill from here, so to speak. Or not.
He sounded a bit wistful, actually. He said that Northern California is mentally challenging. It's not as exciting as the Sierras, he says, and he goes long periods of time without talking or having much to think about. He said that it's hard to keep your spirits up. This first half of the trail has taken him longer than he expected, in large part due to the snow in the Sierras, and he now faces a few tough decisions.
Before he left home, we had a talk about the mental challenges of this hike. I can't profess to understand them and didn't know what to anticipate. But he warned me that there would be times when he'd feel defeated and want to quit, and that he might call home and tell me that he's done, fed up, wants to come home. I asked him then how he'd want me to handle that, if it happened, and he said "Talk me out of it."
Ah. The burdens of parenthood. It's one thing to talk your kid out of wanting to drop a class or quit the soccer team. It's another thing entirely to push them beyond their perceived limits to continue sleeping in the wilderness and scaling 14,000 foot mountain facades.
Mike is certainly not ready to quit, but he is concerned that he's running out of time. At the rate he's going, he won't make it to Canada before they close the trail in Washington in late October. And the mental part is draining right now, he says. A minor aside, he's broken a toe and for the past 80 miles, has had trouble keeping up with his posse.
This is where my remarkable parenting skills need to kick in. A little luck and good timing helps, as well.
The luck and good timing part: Each summer, the PCT Association holds a festival for everyone on the trail–hikers, workers, trail angels, volunteers–in Cascade Locks, Oregon, in the heart of the Columbia River Gorge. It's this weekend, in fact. So Mike and his companions have decided to "call an audible", as my Texan husband would say, and hop off the trail, rent a car (is he old enough for that?) and drive 800 miles to The 11th Annual PCT Days (video from last year, but thought you'd like it):
"Pacific Crest Trail Days is a 3-day summer festival that celebrates outdoor recreation, with a focus on hiking, camping, and backpacking.  Attendees are able to learn about outdoor products from exhibiting sponsors, participate in activities, games & presentations, win awesome gear at the raffle, listen to live music, enjoy local food & beverages, and get great deals at the largest gear expo in the country.  All raffle proceeds are donated to the Pacific Crest Trail Association and the American Long Distance Hiking Association-West.  PCT DAYS is free to attend, with a small fee for overnight camping on Thunder Island.  Don't miss out on being a part of a great time at the 11th annual PCT DAYS, located in Cascade Locks, Oregon, the heart of the Columbia River Gorge!"
I was a little shocked to hear of this, as 800 miles up the trail is a pretty major diversion. However, could there be a better shot in the arm to re-encourage him to keep up the fight? Seems he'll meet up with a lot of the people he's hiked with and gotten to know along the trail so far and it will give his broken toe some much-needed rest. And from Cascade Locks, he's only 500 miles from the Canadian border, which presents a whole new option for him: Flip, as they say.
Here's a map of the section of the trail Mike's been in for weeks. He called me yesterday from outside of Redding: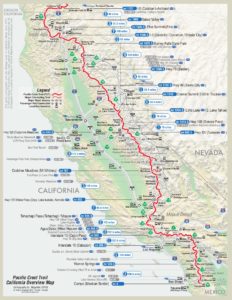 And here's the section of the trail he's headed to this morning. You'll see Cascade Locks just outside of Portland: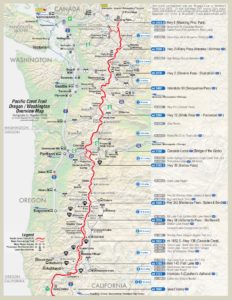 So after a good bit of conversation and encouragement (this is the good parenting part), he's considering changing course. Perhaps after the festival, he and his two companions will hop a Greyhound to the Canadian border and do what I so wanted him to do in the Sierras: jump to the top of the trail and hike southbound back to where he jumped off in Northern California, with a much better chance of making it there by mid October.
The advantages to this are many. The mountains of Washington are going to present a similar sort of challenge as he faced in the high Sierras. They may be impassable by October, but they are fine now. This would allow him to pick up speed, get back to the exhilarating views and challenging hiking he loves while the weather is good, and as the season turns colder, he'll be walking south, out of the worst of it, ending his hike back in North California before the trail closes.
I told him that all through life, he's going to face boredom and drudgery and that there are parts of every journey that just drain you more than they restore you. Learning to gut through them is a skill all of us need. So sticking this out is important. He made the decision to stick with it in the Sierras because he wanted to master the most difficult part of the hike during the most difficult part of the season. And he did it and he will always be proud of that. Now, a decision to flip the journey, reroute his plan and come south might just be the way to accomplish his ultimate goal of completion. And that's also an important life skill—seeing the challenge in front of you and being willing to adapt, adjust the plan, and redesign a viable course. It's a win-win, I told him.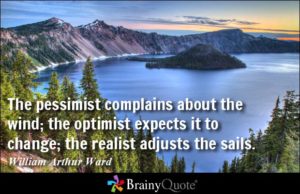 So stay tuned, my friends. All boxes are on hold for the moment (and in fact, a few are yet to be found somewhere in Northern California, I reckon) and, if my calculations are right, Mike should be pulling into Cascade Locks as we speak. Maybe he'll buy a tent.
I'll let you know what he decides. Thank you, as always, for following along with us. And for your prayers.
The Road Not Taken
Two roads diverged in a yellow wood,
And sorry I could not travel both
And be one traveler, long I stood
And looked down one as far as I could
To where it bent in the undergrowth;
Then took the other, as just as fair,
And having perhaps the better claim,
Because it was grassy and wanted wear;
Though as for that the passing there
Had worn them really about the same,
And both that morning equally lay
In leaves no step had trodden black.
Oh, I kept the first for another day!
Yet knowing how way leads on to way,
I doubted if I should ever come back.
I shall be telling this with a sigh
Somewhere ages and ages hence:
Two roads diverged in a wood, and I—
I took the one less traveled by,
And that has made all the difference.
— Robert Frost
For my Dad.