Day 95: "The Dangerous Part is Over Now, Mom"
When Michael started his adventure on April 28th, I couldn't envision what four months out would look like. Would he still be walking? Would I be flying to the West Coast every month to see him? Would he disappear out there, never to be heard from again? As I sit here on the first of August, I must say that the past three months have been better than expected and, I suspect, better than Michael imagined. With less than three months left to go until he crosses the border to Canada, he said to me on Sunday "I've sent home my bear locker and ice hatchet. No more rivers to cross. The dangerous part is over now, Mom."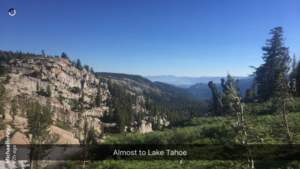 He is out of the high Sierras now and moving on to less aggressive terrain in Northern California, Oregon and Washington. He stopped at South Lake Tahoe for the past two days, where he managed to bunk with some trail friends, get a few restaurant meals and take some time to talk to a reporter from our neighborhood paper, The White Rock Lake Weekly
Their story on Michael resulted in a number of people contacting me for information about the Pacific Crest Trail and Michael's hike and my experience. So, as we mark the beginning of August and the second half of this saga, I thought this might be a good time to share with you a few key tips about hiking the PCT:
Craig's PCT Planner https://www.pctplanner.com/  Michael discovered this amazing planning tool, developed by a guy who makes it available to people planning a PCT Hike.  I've mentioned it before. As the person who boxes up the resupplies and adjusts the number of meals based on the conditions of the trail and how fast Mike is walking, this tool is a life-saver.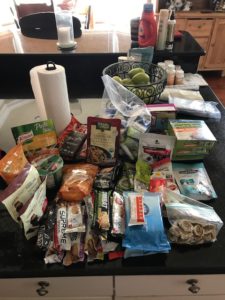 Michael mapped out his hike in advance and now I log in to readjust each stop based on his arrival and departure days, his "cover" estimates (how many miles he can walk in a day), and whether or not he's changed his mind on route. (I've come to realize he can change route based on weather conditions or something as simple as a really good party at a trail angel's house.) Here's what a snippet of Michael's plan looks like on Craig's PCT Planner: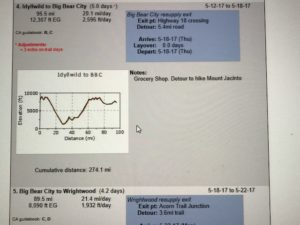 Flat Rate Shipping at the US Postal Service: The vast majority of stops along the trail are serviced by the US Postal Service. That means I can send Mike's resupplies via flat rate shipping. For $18.50 or so, I send a large box, packed to the brim with food, toiletries, toilet paper, first aid supplies, and unexpected treats, just so its interesting to open each box. (I found packaged olives. My kids are half Portuguese. They were a huge hit.)

Most of the boxes are sent to "General Delivery" at a local post office. In the towns without post offices, they are sent to some hiker stores or "resorts", even to trail angels' homes. (FedEx and UPS deliver to some of those non-post office towns, which astonishes me. Some of these places are no bigger than a trail crossing with a gas station.) I mark on each box "Hold for Thru-Hiker Michael Fonseca. ETA: 8/1/17". Hikers reload their packs from these resupply boxes, and they share the things they don't want or can't carry in "hiker boxes." These are free boxes for long distance trail users to "leave a little – take a little". I think you can find everything from oatmeal, ramen and dried fruit to extra plastic bags, sunscreen, and partially used fuel canisters in a hiker box.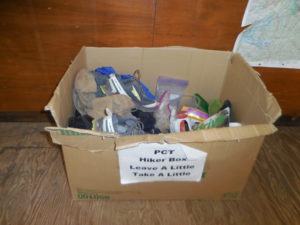 REi: They are simply the best at supporting hikers on the PCT (and I imagine the Appalachian Trail, too). Once Michael got to know people at REi, he'd run over there often to check out ideas, ask for advice and plan out his gear before he left. He made friends with Liz Meschio–an astonishing woman who's hiked the PCT (and many other trails since graduating from college) and now teaches the thru-hiking classes, and others, at REi. Liz took Mike under her wing and was a Godsend, reassuring me that Michael had "what is needed most:– he's smart." She told us about The SPOT, how to use it, and she shared her equipment list so I knew that Mike had the gear he needed. She checked his pack before he left in April, reorganized it and threw out a few things she said he wouldn't need. I still pop over to talk to Liz about the trail. She calms me.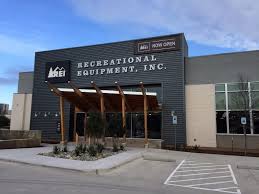 REi ships supplies to hikers on the trail. It's wild. When Mike needed a new pair of trail runners, he sent me to REi to return the ones he'd left for me to mail, in his room, and exchange them for a bigger size. (Much like pregnancy, hiking makes your feet spread.) They have all his purchases on record, asked which PCT stop he'd be arriving at later in the week, and shipped new shoes to him at the hiker town post office. REi is like a family member now.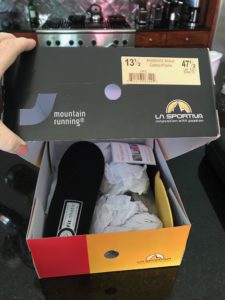 Good Supply Lists: You can find these everywhere online, and I know that Michael used several. He made decisions not to take lots of things, but here are the essentials he decided on:
The Big Four: Pack, Tent, Sleeping Bag, Sleeping Pad. (well, no tent. Mike opted for a piece of Tyvek paper and a plastic tarp at the last minute. All in the spirit of Lite Hiking. He says its the best decision, he loves sleeping under the stars at night.)
Footware: This is controversial. Mike decided to wear trail runners, which look just like running shoes. They are lighter but need to be replaced a lot (of course they do.) So no hiking boots for him. He also has three pair of socks with him.
Clothing (layers, rain gear)–One set for walking, one set for sleeping. Mike has a rain kilt. Literally wraps around his waist and covers his legs. I want one.
Water/Hydration/Filtration System – Platypus or Sawyer make the most popular versions.
Food – Snickers. Oh yes, and Clif Bars, PopTarts, Starbucks Via coffee paks, dried milk, dried butter, peanut butter, tuna, rice, rice, rice and mashed potatoes.
First aid – Duct tape, safety pins, baby wipes, toilet paper in a ziplock baggie, antespetic wipes, band-aids, ibuprofen, Dr. Bonner's Soap (works as toothpaste, shampoo, laundry detergent, you name it), anti-diarrhea

 medicine, iodine capsules

Knife/Multitool – Leatherman is common. Mike took a tiny knife my husband gave to him. Every ounce counts, he says.
Firestarter – BIC Lighter, Ferro rod (seriously? no matches?)
Navigation System – Garmins are common. Michael opted not to do this. How's that for scary?
Headlamp – Michael uses his to walk at night and to light up his campsite.
Sun Protection/Bug Spray – Brands are Badger, Jungle Juice, Ben's. Need a head net, too. In the Sierras, he bought wind pants to keep the mosquitoes off. He says they are horrific on the trail.
Cook Stove and Mug/Pot: You've seen Mike's mini stove. He told me a few weeks ago that he's lost it (hmm?) so he's sent his Mug home and is eating his food cold. Says its easier. No need to carry propane now either. Good grief.
Battery: This is a pack that charges his headlamp and phone. Mike also has a phone case with a built in battery pack–which is a lifesaver.
Stuff Sacks: These are interesting. They're brightly colored nylon bags that help hikers organize and isolate their stuff inside their backpacks. Mike carries his sleeping clothes in a stuff sack during the day and at night, uses the sack stuffed with his day clothes as his pillow. Ingenious!
Trekking Poles: Now that my son has been mountain climbing, I have a whole new appreciation for trekking poles. Don't leave home without them.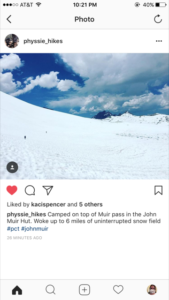 People ask me how I manage to stay calm through all this. I don't know, really. I'm grateful for this experience, and I know this is good for Michael, and probably for me too. But I must admit, I am always aware that all this could change in an instant. Michael is walking 2,650 miles through the highest mountain peaks in the Continental US. I am always aware that there are other parents out there whose experience of this same trek has been heartbreaking.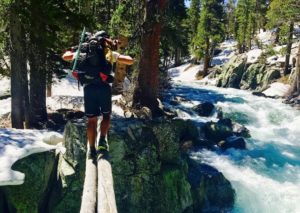 Michael asked me on Sunday if I'd been reading the PCTA Facebook group page. "There are some sad things on there," he said. He mentioned a young woman who was hiking in Yosemite while he was there. She lost her footing in a river crossing and died. I am heartbroken for her family. No words capture it. The PCTA Group Facebook page says "It is with great sadness, I must share Tree Wang's body was found this morning. She was located in a river within Yosemite National Park. We lost another adventurous soul
😢 Rest Peacefully, Sweet Tree."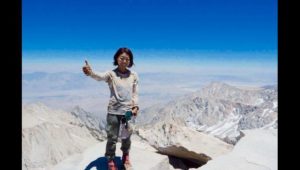 As I celebrate Michael each day, and give thanks for three months of safe passage, I pray for every single one of his fellow hikers and their families, and I will hold Rita Morita in my heart. .The dangerous parts aren't really over, Michael. Every day, as you step out onto a trail, I have no choice but to pray for the best, trust you and revel in the knowledge that you are happy. It's what every parent must do, eventually.
Today, that's what I choose to do.