Day 32: The SPOT Lifeline
As of today, Michael has been on the trail for over a month. I woke up this morning, realizing that this is my new norm: my first thoughts are did I get a text? is there a Snapchat photo? did he send a SPOT message?
I haven't told you yet about SPOT. It's formally called The SPOT Satellite GPS Messenger. I first learned about it when I went with Michael to a class as REi (the world's greatest customer service hiking/backpacking company), where this amazing young woman talked about her experiences on the PCT trail and the supplies she used to complete the trek in just over four months. Michael raised his hand to ask the question "The SPOT, is it worth the weight?" (Of course, I thought he asked "is it worth the wait?" in reference to some unnamed well-loved location on the trail. What did I know?) She answered, "Let's put it this way: It's the only way my mother would let me do this."
Music to my ears! Whatever the heck this SPOT thing was, I wanted one! I instantly made a mental note: Michael had to have one and I wasn't taking no for an answer. (Control is a beautiful thing.)
At first, I think Michael would have been resistant but Liz (the amazing REi woman) chatted with us after the class, and her endorsement of SPOT convinced Michael that this may be the best way to keep me from being an anxiety burden to him.  SPOT is a small communications devise that hangs on Mike's backpack, operates on batteries, and is connected via a monthly GPS service to satellite communications, allowing Michael to send one of four messages to a list of up to 10 email addresses, at the push of a button, no matter where he is. It bypasses the "no cell service" problem and allows him to tell us he's OK.
My husband, being a mechanical engineer and a gadget man, was in his glory. I came home from REi, full of new-found confidence, and said "I've got a way to NOT lose my mind!" This catapulted him into action: he did his research (he's so much better at that than I am), he hunted down the proper version, subscribed to the GPS service, set up Mike's four messages, loaded this sucker with the email addresses of the mothers, fathers, sisters, brothers and family members who need reassuring messages from Mikeonahike (my uncle M. Donald Frampton's endearing nickname for Michael) and parked himself in our backyard, firing off test messages for weeks.
Mike's four buttons are programmed to send one of the following messages to his Family Posse:
Stopped for the night. I'm OK. He's suppose to hit this button every night when he sets up camp (which means lays down his Tyvek paper and looks up at the stars.) Included in the message is a link to Google Maps that shows exactly where he is, even marks the trail. I can literally see if he stopped to the east or the west of the trail. When he hits the button, we get an email like this: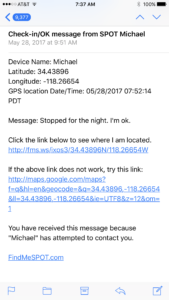 and Google Maps shows us this: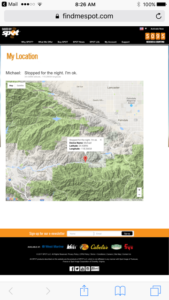 Needless to say, it's brilliant. (In bad weather, the message doesn't come through. It doesn't come through if he's so exhausted he lays down on the Tyvek paper without hitting the button either. Just saying, no system is perfect.)
I'm in town. I'll call soon.  He hits this button when he's arrived in at a resupply stop. Sometimes he goes to the post office to collect a box we've sent, sometimes he goes to a grocery to buy his next supplies, sometimes he goes to a Trail Angel's home to shower and do laundry, sometimes he rents a motel room with 18 other hikers and takes a Zero Day to rest. Sometimes he goes to MacDonald's. Whatever he does, he's suppose to hit this button and call his mother.
I need help. Contact a Park Ranger. Now this is a message no mother wants. I haven't fully wrapped my brain around this one, because it means he's in a non-life-threatening-albeit-needing-help situation, which seems a bit like an oxymoron to me, given he's ALONE IN THE MOUNTAINS. It also means that WE need to do something, which of course is terrifying. What constitutes such a thing, I asked and he always answered "a broken leg". I suspect it also covers a multitude of sins he wasn't willing to share with me.
SOS. Now, this one technically isn't a message to his Posse. If he hits this button, a message is sent, with his GPS coordinates and information, to a company called GEOS International Emergency Response Coordination Center, which alerts local response teams, like 9-1-1 responders, to begin search and rescue efforts and if necessary, launch Medivac services (yes, we bought helicopter insurance) to air rescue and transport Michael to a hospital. Oh yes, and call me. Again, my question was So what's the difference between this and the preceding button? Answer always the same: rattlesnake bite. God in Heaven.
The SPOT can also provide automatic tracking by dropping pins with coordinates every six miles, but Michael thought that was overkill (and over-parenting). I thought it was a safe way to prepare for rescue. But it causes him to burn through batteries every three or four days, and extra batteries means extra weight. Here we have come upon another Thru-Hiking Parenting Truth: You pick your battles.
All this to say, I'm not such a brave woman after all. I have technology on my side, allowing me to nervously track my son's whereabouts and scold him (gently) if I don't get a SPOT message, much as I use to (anything but gently) when he missed curfew in high school. He's carrying the extra weight of SPOT for me, and for his dad and his step-dad and his sister. I'm grateful that he recognizes the importance of giving us peace of mind. I suspect he's also glad to have that darn SOS button, truth be told. It makes me realize he's not a careless high school kid anymore.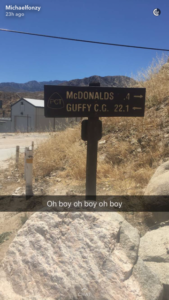 This past weekend, I couldn't help but feel the weight of the mothers and fathers who also have sons and daughters who journeyed far from home to pursue a dream or an adventure or path that, for whatever reason, they were called to follow and who, in defending our democracy and the values we hold dear and all too often take for granted, in dangerous places around the world, will never come home. My heart breaks for them and I am so very sorry for their loss. This beautiful country, that my son is free to roam, is kept safe because of their children. Thank you can never be enough.