Day 88: One Thousand Miles
In the past week, Michael walked from Red Meadows California to a small town just off the trail called Bridgeport, at the 1018 mile of the PCT. That means he's walked 1,000 miles.
I'm not even sure how to grasp that, to be frank. In less than 88 days (as I'm writing this after he's rested in Bridgeport and is now back on the trail to his next stop at South Lake Tahoe/Echo Lake), he's walked a distance equivalent to that from our home in Dallas to my sister's home in St. Louis Missouri, and back again. I can't help but think that would have taken me more like a year to accomplish.
While celebrating this 1,000 mile landmark, it merits explaining why, beyond the obvious, what Michael is doing is so remarkable.
Since he was a little boy, Michael had a sort of grandiose assessment of his abilities. It was comical as a small child. If you had a heavy sack to carry or a difficult jar to open, Michael would appear at your side, chest out and breath heaving, reassuring you that he was the man for the job.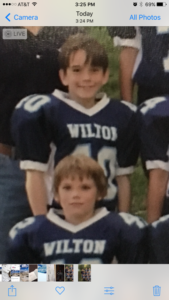 Throughout school, he tried every sport known to man. I always said he won the bravery award because his determination to play far outreached his athletic ability, but that never stopped him.
I feared, initially, this hiking thing was more of the same thing. He had done some hiking with his dad–they'd hiked Mount Washington in New Hampshire several times together when Michael was younger. Still, when he told me last fall that he had been buying hiking gear and was going out alone on the Appalachian Trail for several days, it seemed crazy to me. I couldn't imagine how he could have learned all that he needed to know to keep himself safe. But as is so often the case as a parent, what choice do you have when your teenager/adult-in-the-making comes to you and says "I'm going to do this"? At some point, they will do what they will do, even if we advise differently. Whether its how to write an essay on Huck Finn or how to set your alarm to wake up on time in the morning, eventually it's their world to conquer, right? I think wrestling with my ability to trust Michael's judgement was my first step in the true leap of faith that is my PCT journey.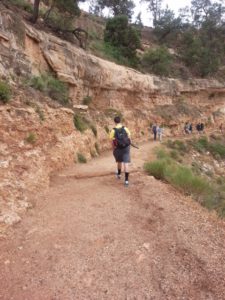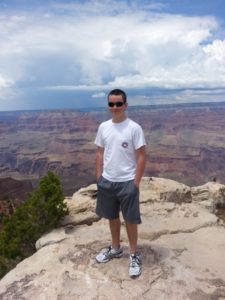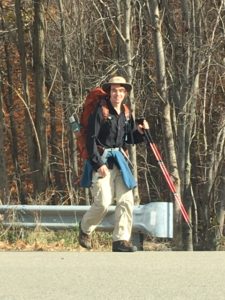 When Michael left Texas Tech last year, after struggling throughout his freshman year, we all knew it was time to change course. With a boat-load of "documented learning differences" and an IQ that earned him a full ride to his school of choice, Michael has fluctuated his whole life between being bored and being overwhelmed as a student. He aspires to big things–he was a physics major at Texas Tech, hence the PCT Trail Name of "Physsie"– so he set out to follow the commonly-accepted path but I think he always knew his best learning (and his best work) is done outside the classroom. To his credit, he's brave enough to explore that truth now.
This is a picture he posted last week. It made me sing: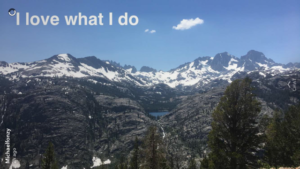 Instead of returning to college with his friends, last fall Michael underwent what we called Hard Labor Camp. This included working on a Service Master crew, cleaning out flooded basements and doing mold abatement, before getting a job as "a produce guy" at a new grocery store in our neighborhood. In both places, as is always the case, people loved Mike and he rose to being a trusted, hard worker with more responsibilities than workers twice his age.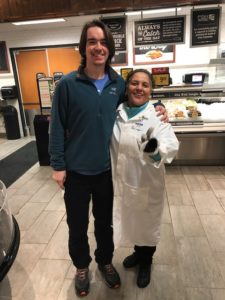 He rose every day at unbelievably early hours to drive to work, saved almost everything he earned, and started planning an elaborate trip that included postage resupply stops, calories calculated per mile walked, the latest and lightest equipment so he could become not just a PCT hiker but a Lite Hiker, a Thru Hiker, the one with the least amount of comforts in service to being nimble and quick on the trail. He purchased everything from his food resupplies and his pack to his one way ticket to San Diego. He left me with detailed instructions of what to do, when, and an intricate hike plan that auto-calculates changes in his arrival and departure dates in each town, based on his updates from the trail.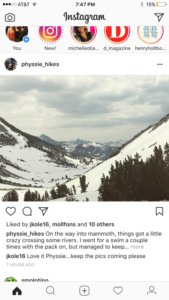 I have much more to say, more photos to share, stories of how he fared in the high Sierras and how much longer he'll be struggling in the snow. I'll get to all that, I promise. But today, I need to shout from the mountaintops that this boy of mine who puffed up his chest and dreamed big his whole life, often in the face of a deck stacked against him, has outshone us all. He came up with a big dream. We, his family, took it with a grain of salt at first. But as the days turned into weeks and his resolve never wavered, I could see there was a steady stream of determination, of personal investment in this idea. He dug deep, worked hard, learned and planned and outlined and prepared. I was terrified, and he told me "trust me, mom. I know what I'm doing." I couldn't believe that he did, but I was wrong. He does know what he's doing. And me trusting that just changes everything.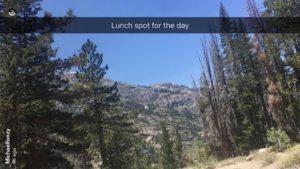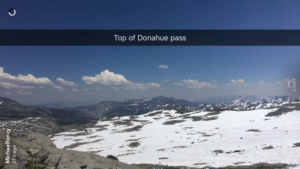 My son walks on mountains, truly. He does it without compromise, without excuses, without blaming others for what goes wrong and without conceit for the courage and skill he brings to the effort. He does it without taking short cuts and without forgetting to press that SPOT button because he remembers how darn scared we all are. He's done it through the high sierras in 2017, the year of the highest snow pack when very few people have managed to navigate them. He is almost half way through an incredible journey that astonishes me every day.
Look at this amazing photo from last week: "My friend sent me a picture of me climbing Mather pass"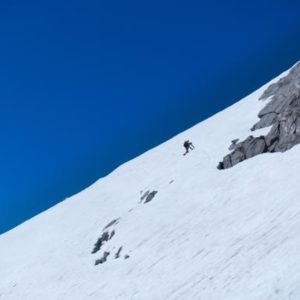 This is not hiking. This is flat out mountain climbing. What he's doing is terrifying and exhilarating and I am so grateful that he has the chance to do it. This is his world to tackle. And I think he's doing it brilliantly.
1,632 miles left to go.