The Transition
I don't think I can be too creative today, but I am so grateful for the community that has formed around us, I need to let everyone know that all is good. Very good. Michael has landed in San Diego and I am at my desk, looking at all the pictures my husband took this morning.
Here are some crazy things that went well:
#1:  The Southwest agent told Mike she's have to see inside the box he was checking. He'd packed and sealed and taped and labeled this big box that contained, well everything. His packed backpack. She said, "what's in your pack?" He said, "oh, sleeping bag, tent, camp stove…" "OK, I need to see the camp stove."  Now imagine this: the camp stove, for starters is about an inch big, all around. Mike had it packed inside a drawstring sack, inside a sock, inside a titanium cook pot, inside a pouch, inside a food bag, inside trash compactor bag, inside his backpack, inside the box. Literally.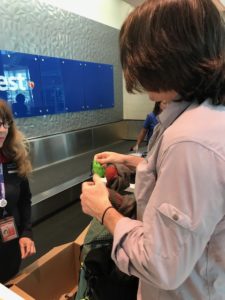 Luckily, my husband has never been late for anything in his life.
When Michael pulled out the stove, the agent said "Get out! How is that a stove?" She turned to her colleague and said "Would you look at this, its a camp stove!!!"  And what started out as a TSA-like inquiry turned into a Texas-style "Honey, God bless you on this journey!  Do you want your parents to go through security with you? Well, why not?  I'm a mom. Momma, I'm not gonna let you stand out here while he's at the gate!"  Southwest is a Texan jewel.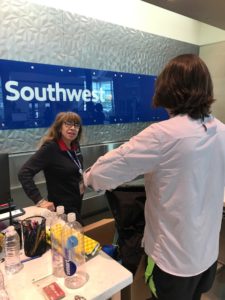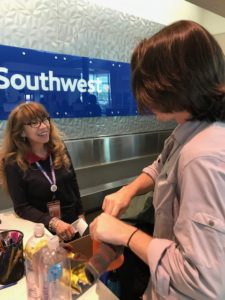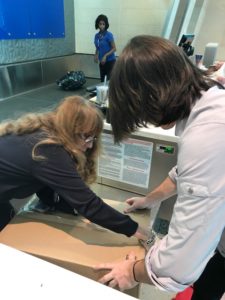 #2: Since we all got to go through security, we had a chance to say goodbye properly, inside the well-appointed Dallas Love Field terminal. And since I'm a big believer in marking important times like this one, we were able to send him off with a well-known Spencer Family tradition. (Yes, it was only 11AM. I know, I know, but after six kids, this was the last chance we'll ever have to do this.)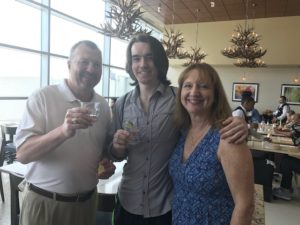 #3. Michael will be staying tonight with Barney and Sandy Mann, the very family I mentioned in my post yesterday. The funny thing is, I can't for the life of me figure out how I found that article online. I don't remember what I was searching for or what made me read it. I can't believe it really. But thanks to that article, I have a visual of where he is tonight and who he's with and what he's doing. Crazy, really. I suspect my father had a hand in making that happen. He would have expected me to be a basket case, right about now. I think he knew what I would need tonight.
Everything was perfect today. Thank you, everyone, for your support. Godspeed, Michael Patrick. Have the time of your life.