30 Days and Counting
One month from today, my son leaves to hike the Pacific Crest Trail.
Those are words I never thought I'd say. I don't even like journeying too far into the backyard. Yet somehow I raised a son who thinks its very reasonable to pile everything he might need for five months into a canvas sack on his back and fly to California, where someone will collect him and deliver him to a designated starting point just north of the Mexican border, and begin walking. To Canada.
Michael is 20. He will turn 21 on the trail, it's true. Still, when he first proposed this idea with a degree of seriousness to me in January, I answered as follows:
No
Are there bears?
No
Oh my god, seriously?
Is there something I can read in order to understand this?
Maybe this isn't so crazy
There really is a lot of very cool gear for people who hike
I have faith in you. Promise me you will call home.
Unlike my son, I tend to be a bookish person. When ​I'm ​at a loss, I turn to written word. So my first instinct, in ​an effort to regain some equilibrium as I watched ​UPS ​and FedEx ​​trucks arrive every day with frighteningly-large boxes containing things like ice picks and dried refried beans, was to find something ​written by another terrified parent ​who loves a child who thru-hike​s​ (that's a term, you know.)
​There was nothing. NOTHING? Seriously? No one had any advice on how to keep from panicking about this?
And that's when it hit me. It's going to take all the presence of mind I can muster to stay the course for 150 or more days, and 150 or more nights. So I'm going to start writing. Writing about how this feels. About what Michael is doing. About how we got to this point and how we're going to spend the next 30 days getting ready. And then writing about where he is, what he's doing and how a mom who is basically afraid of all animals, insects, rodents and flying things is keeping her sanity and cheering for her son while he discovers what he's made of.
Here's a picture of Michael on the Appalachian Trail in Connecticut in October: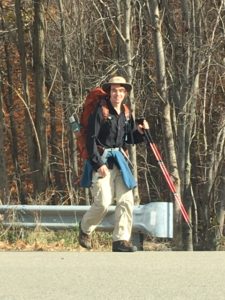 But here's what he looks like to me:
Here we are together, the day he graduated from high school in 2015. Little did I know what was in store: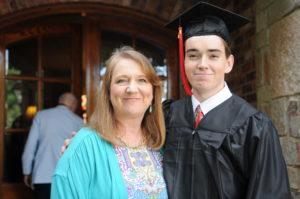 Thanks for coming on the journey with us. I'll try to share news about Mike, where he is and post the pictures and videos he sends, and I'll try to give you some good things to read about the Pacific Crest Trail as well as other long distance hikes and whatever else I learn along the way. This part is my journey. Its a journey I didn't expect to take but I'm Terrified-Proud. After all, not everyone can say their son walks on mountains.