Day 28: The Art of Distraction
There's a fundamental difference between avoidance and distraction. Avoidance implies a state of anxiety whereas distraction connotes a sense of relief. A purposeful carefreeness.
The past two days have been ones of delightful distraction. When you move to Texas at the age of 50, its a safe bet that most of the people you know live really, really far away. This is a huge place. So if your long-time girlfriend from New Jersey says she's driving across country with her daughter and will be coming through Dallas, you pretty much drop everything and dance a jig.
Beth Ann has known Michael for a long time. Our families spend time together every summer in Stone Harbor on the New Jersey shore, most likely the most perfect place in the world. Beth Ann has always wrapped her arms around my kids, but she's had a special fondness for Mike, who was just a young guy when she first took him out on the bay in his own kayak. (Yes, I was scared that morning too.) Last summer, after Mike finished his first year at Texas Tech and it was made pretty clear that he wouldn't be going back, at least not right away, it was Beth Ann who held me in a steady gaze and said "Hold firm. Don't solve this problem for him. Let him find his way and have faith that he will."
It was fitting that she found her way to Dallas for the first time during this 30-day countdown. Her visit gave me a much-needed respite from planning and worry about how Mike will get everything done and how I will get ready to put him on that plane. Instead, we reveled in how we are still those same two girls who met in 1976 at Gettysburg College and that we've each managed to grow some pretty amazing kids.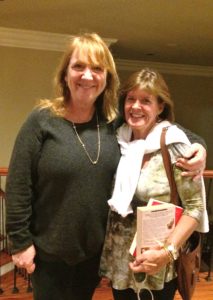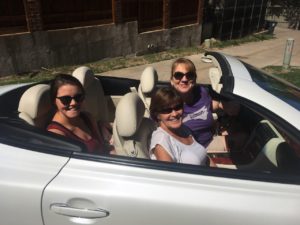 Michael's sleeping bag arrived yesterday. It's a sleeping quilt, actually. He ordered it from a small company that makes them to order. Apparently, a sleeping quilt just lays over you, rather than a sleeping bag which is more like being mummified in quilting. Why, you ask? The answer is always the same: It's all about the weight. The sleeping quilt is dramatically lighter (which I think means ounces) and condenses down into a manageable ball that can just be shoved somewhere in that backpack.  Because there's no underside, you sleep on a sleeping pad (Mike has an air pad) and the quilt is made 6 inches longer than your body so your feet stay warm. But you sleep in wool socks, just in case anyone is worrying about his feet.
When he wakes up, I'll ask him for the name of the company that makes the quilt and for the specs about weight and such. You might have a thru-hiker yourself one day. You never know. Trust me.
Thank you to everyone who posted such encouraging comments on my Facebook page about the blog (and hopefully the comments section works on this page now, thanks to my daughter Molly.)  It was wonderful to see your names pop up.  I celebrate knowing every one of you and welcome you on this journey. Please feel free to drive through Texas and distract me, any time.