Day 10: Radio Silent
Michael is at an altitude of 4962.46. That doesn't mean much to me, but everyone else in the car kind of oohed and wowed when we discovered his Shapchat photos. All I could think of was "HE'S SLEEPING ON TYVEK PAPER!"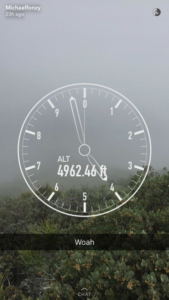 Last I'd heard from him was Friday morning. He was in a small town called Mount Laguna, sitting at a golf course, very excited about his pending pizza order. He is still with his hiking companions, he'd picked up Box 2 and was ridiculously happy. As we finished the call, he mentioned in passing that he may have to get off the trail, perhaps "hitch" around a forest fire on his way to Idyllwild…
Then, all went radio silent.
Being a woman who grew up in Europe, and who myself wore a backpack for six weeks to ride trails through Spain, Italy, Austria, France and Belgium at the age of 16, I know a thing or two about hitchhiking. Yes, I know it's a culture. Yes, I know this is California, not Post-Franco Barcelona. I realize there's very little chance of a smelly, almost-21-year old 6ft PCT hiker being kidnapped and sold into servitude, which is what all ex-Pat 16-year-old-girls living in Brussels Belgium claimed to fear in 1976. (It was actually the excuse we used to start smoking cigarettes: we could use them to ward off men who came to steal us. Or so we told our parents.) Still, radio silent and "might have to hitch" don't go well together. My only comfort (other than pipeline to God) is that he's got a posse.
While I know almost nothing about forest fire, I've read enough to realize its a very real threat to hikers on the PTC. I spoke with Michael before he left, after having read one of those "10 Things You Probably Don't Know But Should Before You Hike The PCT Trail" blogs, and told him "you know, if you're near a forest fire, DON'T RUN UPHILL."  Seems improbable that your first instinct would be to run uphill, but hey, you are in the mountains. Uphill is just about everywhere. Michael looked at me somewhat perplexed and said "OK" and I thought, ah ha! You see? It's a good thing I spend all day and all night reading these articles and posts filled with life saving information, scaring myself to death in order to assure your safety! (It's hard to stop feeling in control of things in your child's life, even when you're smacked upside the head with the harsh reality.)
Both forest fire and hitchhiking, however, seem wildly inconsistent with the photograph he posted last night. So while I was hugely relieved to get communication, I was aghast at the vision of sleeping on ice and befuddled as to what had happened since noon on Friday. How was I going to be able to reconstruct the last two days, and how on earth did he go from this: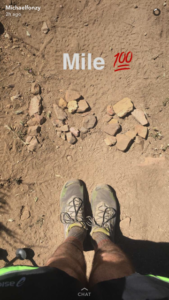 to this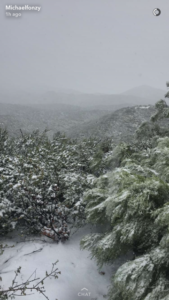 using only his feet?
I've been spoiled with his texts and calls and Snapchat posts, lulled into a false sense of "oh, this is just like he's away at college!" kind of comfort. It was a good way to start, certainly. But in the last 48 hours, I've realized this is the honeymoon phase, Maxine. The deeper he gets into the terrain, and out of Southern California, the less likely there is to be cell service. The longer he's away from home, the more likely he is to forget to call Mom. It's OK. I can handle this. I've got my posse too.
But I can't help but wonder, without a cell phone and Snapchat photos, how on earth did my mother handle this? Are we made of less metal than our mothers were? Do we have less faith, or less confidence in our kids, than they did? Or did they know something that we don't know, that it's actually true that our job was is to raise children to go out into the world and handle things themselves, sending a post card every now and then to say "All is well, having a great time!"?
Every time I've talked to Michael since the day he arrived in San Diego, he's said "this is so much fun."  So all is well, he's having a great time. Time for me to take a page from my mother's book, and be satisfied. Job well done, Maxine. Job well done, Mum.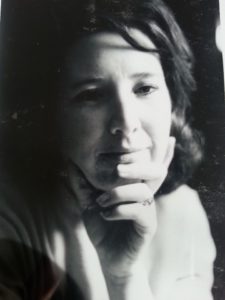 PS. Just got a text from Michael, as I'm writing this: I'm OK. We've been in a snow storm and haven't had service for more than 5 minutes.  Job well done, Mike (oh God, why didn't he take a bigger coat?)