Day 52: Walking with Cheryl Strayed
I know myself well enough to know to be careful about what I read at times like this. Reading has always been a huge part of my life, and I love nothing more than to read a book that is somehow related to where I am, say on a vacation or in my life. Like reading The Horse Whisperer when I turned 40. Devastating.
As soon as you mention that your son is hiking the Pacific Crest Trail, people tell you to read Wild, Cheryl Strayed's account of her walk–and grieving the loss of her mother–in 1995, Of course, I saw the movie in 2014 and loved it, but I was shy about reading the book as I was sure it contained way too much information about things like bears, cliffs, starvation, lack of water, and loneliness for me to be able to handle it well.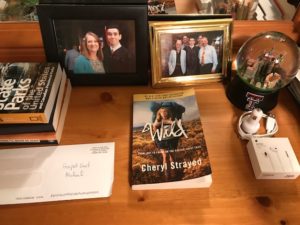 I found it in Michael's bedroom last week, while I was in there packing Box 6, and decided to give it a try. Michael had last called me on May 30. He sounded great, said he was feeling great and was happy. He was camped at Tehachapi, at the 566 mile marker and was leaving that afternoon to head into the Sierra Madres. His next stop was to be Kennedy Meadows, the first stop in the Sierras. He told me that he'd be out of cell range for the next seven days and would Facetime me from Kennedy Meadows, where they'd surely have wifi.  I told him to keep hitting that SPOT button every night.
Maybe that's what motivated me. I knew we were entering a silent stretch, and the terrain was changing. I also knew that the box I'd sent to Kennedy Meadows had some serious supplies: his heavy duty hiking boots, a bear locker (which is basically a large thick plastic container like what you buy pretzels or cheese puff snacks in at Sam's or Costco, with a really tricky screw-on top), and The Worlds Most Beautiful Titanium Ice Ax. When you send a box like that to your kid, with a note saying "Have fun!", it makes you a little shaky.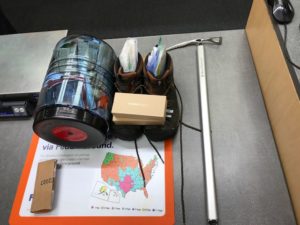 So I started reading. Cheryl Strayed got on the PCT almost exactly where Michael was on May 30th. (I think she was closer to the 600 mile marker, to be exact). Her first stop was Kennedy Meadows. From there, she faced the Sierras, the snow and ice, and the bears. She describes the exact trail, at the exact place where Michael is traveling, as he is traveling it. She talks about the snow, and the danger of crossing ice slides and how to use the ice ax to stabilize herself, and stop herself from sliding off a ledge. She talks about freezing at night and the inside of her tent being frosted in the morning.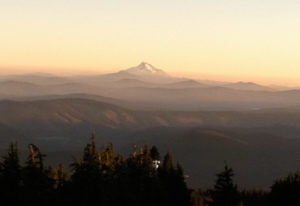 I didn't talk to Michael again until last night. That's 19 days. I was fearful that maybe he'd lost his phone, as the SnapChat photos stopped eventually too. He wasn't good with SPOT messages either. They seemed to come every three days, at odd hours of the day. When he didn't call or send a message from Kennedy Meadows, I started to worry. But I kept reading. There really wasn't anything else I could do.
Michael has always been a man of few words. He doesn't fill in all the colorful details of his experience, he simply tells you the basics. I'm use to it, of course. So during this quiet period, when I knew the walk was getting more difficult, I've satisfied my need for information by making this journey with Cheryl Strayed. I've been looking at the same mountains, crossing the same creeks and ice slides, almost stepping on the rattlesnakes and stepping into the same General Stores as Michael has, with all of the color and muscle and raw honesty of this woman's narrative. Its been wonderful. She's a brilliant writer, and its an amazing thing to be reading each step of the way, as Michael walks. I wish her book went on forever. Or at least until Canada.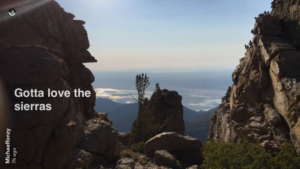 Cheryl Strayed hiked 1,100 miles of the 2,663 mile long Pacific Crest Trail. She began her journey in Mojave, California and finished her 94-day trek at the Bridge of the Gods on the Oregon-Washington border. Her story is incredible. She did this before it was popular–in fact, she's made it popular. She did it alone, without any real substantive experience. She's a Shero, as Maya Angelou would say.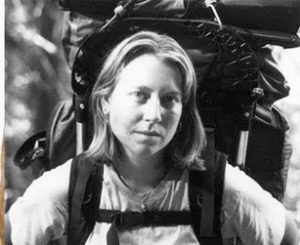 Wild has broken my heart and terrified me and inspired me and made me grateful that my son has the audacity and determination to do something as other-worldly as hike the Pacific Crest Trail alone. It's made me grateful that I've lived beyond my daughter's 22nd year and she will never know what its like to lose a mom before she knows how to live on her own. It's made me appreciate the amazing things my children can do when their lives depend on it, or when they face a grief so great they must flight their way out from under it. I pray every single day that Michael and his fellow travelers are safe, particularly now that they are in this dangerous, heavily snowed-in Sierra Madre mountain range, and that he makes it home here in October, proud of what he has done.
Above all else, I thank God for my children and for the 27 years I've spent with them.
And I pray that Michael comes down off that mountain range if its too difficult, catches a bus to Oregon and keeps walking.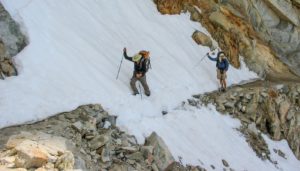 The conditions on the PCT in the Sierras are highly dangerous right now. They've had a record snowfall year, and as California warms up, the ice is melting, the creeks are teaming and the soft snow is collapsing into underground caverns, the avalanche risk is high and there are ice slides. You can follow the conditions and conversation at  https://www.facebook.com/PCTAFan/
Thank you all for your prayers for everyone out on the PCT this year. And for me, Terrified Mom.