Day 79: Home
My husband and I have just returned home to Dallas from a two-week vacation at the beach in New Jersey.
We rent a small bay-front house every summer in Stone Harbor, otherwise known as "Exit 10 on the Parkway." We throw open the doors to whichever of our kids can join us and we spend time with wonderful friends who live on the island and without whom we could never pull off such a trip. People shake their heads when they hear we've come all the way from Texas.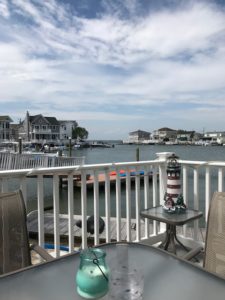 This year was our first year in Stone Harbor without Michael.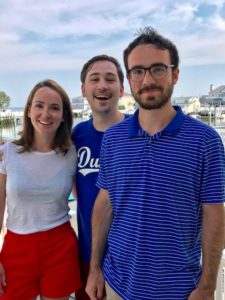 This is where Michael was (he's the guy in the front):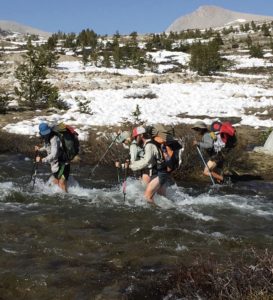 As luck would have it, he called the day we arrived (June 30/PCT Day 63) and as he was preparing to return to the trail for a 10-day no-cell-service stretch. ( I suggest to you that there is no better way to avoid worry during a 10-day communication hiatus than to sit at the beach with family and friends and feel like the luckiest woman in the world.)  He had just spent two days in a town called Bishop, having hitched down from the trail with his gang for a couple of days of real food and sleep. Probably some legal-age tavern visitations, too.
When he called, he was on a bus from Bishop to Independence, headed to the post office where we'd sent three resupply boxes before heading out on vacation. His plan was to "bounce" two boxes forward to his next two stops, giving him the flexibility to make decisions based on where he was walking and which stops are open this year. (We sent a fourth box with his ski goggles–apparently the wind is so strong in the mountains, he thought they'd be helpful.) The snow is making advance planning difficult. Here's a message posted on one of the PCT Planner sites today:
Note about Sierra resupplies: If you're too early, resupply may be hard because the road to Lone Pine, Muir Trail Ranch, VVR, Reds Meadow, and Tuolumne Meadows may not be open yet. The date they open is dependent on when the snow melts.
Just to review where he's been: Since getting out of Southern California's Mohave Desert, with stops at Hiker Heaven at Agua Dulce @ 454 mile mark and Techachapi @ 566 mile mark, Michael hiked to Kennedy Meadows (Gateway to the Sierras) @ 702 mile mark, to Lone Pine @ 745 mile mark, hopped on the John Muir Trail to hike Mount Whitney–the highest peak in the Continental US–to exit the trail at mile marker 786.6 to Bishop.
When he called, it snapped me out of vacation mode and reminded me that I have a son in a dangerous spot in the most snow packed year on record in the high Sierras. I was still reeling (I think in a good way?) from that amazing photo of him on the Forester Pass on Mount Whitney: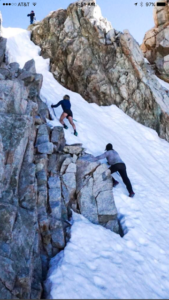 We talked for a long while. He was alone and said that leaving Bishop was bittersweet because his trail family had decided to part ways. After much discussion, most of the group decided to "flip" to Northern California, skipping the rest of the Sierras in order to get back to 20-mile-a-day hiking and make it to the end of the trail before their real-life commitments kick in at the end of summer. One of his group was a pilot, another a nurse, and all were older than Michael. He has the luxury of no demanding schedule other than beating the bad weather in Northern Washington.
He assured me that it had nothing to do with safety and that he and another member of the group were confident in their decision to return to the mountains and continue through the snow for another 300 miles or so. It goes without saying I wished he'd flipped too. But this isn't my hike.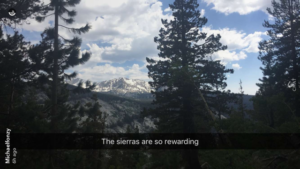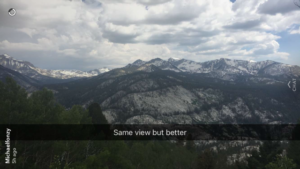 He bought a new pair of trail runners in Bishop. His original pair only lasted to Kennedy Meadows, I think. Once he hit the Sierras, he borrowed a pair of shoes from someone in his group (what did that guy walk in, I wonder?) He's figuring he will need at least two more pair before the end of this journey. Clearly trail runners are the more expensive option for hiking, over boots, but he says they make all the difference on your feet and legs, as they are like running shoes–light, flexible, with good traction. Hard to imagine them working in snow, mind you, but then who would expect they'd be hiking in snow in shorts?
We reviewed his next steps and said our goodbyes for now.  He was going to hitch a ride to the trail head, wait for his partner and walk together about five miles that afternoon before setting up camp. The next morning, he'd begin his silent walk to Vermillion Valley Resort (VVR) @ 877 mile marker. He said there's a resupply shop there and a campsite where the first beer is free. After that, he'd make it to mile 906 and rest at Mammoth Lakes, CA.
It looks beautiful: http://www.redsmeadow.com/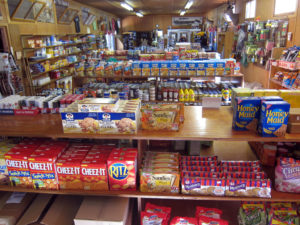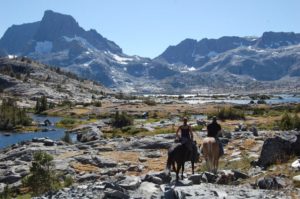 As is our routine, I confirmed that he should make it to Red Meadows in 10 days, 13 days on the outside. I asked him when, if I don't hear from him, I should be worried. He answered "Lets put it this way: if I'm not there in 16 days, I'm in trouble." (Thank God, and my husband, for SPOT tracking)
All I could think of, as I hung up the phone, was that he was on his own with his thumb out, having left a Band of Merry Souls whom he trusted and cared for to head back into a dangerous, snow-packed mountain range. He was a long way from Stone Harbor New Jersey, and I was sad. I wanted him home.
And then he posted this: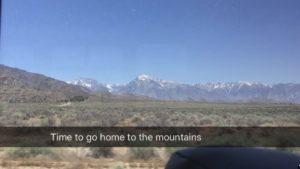 Home is such a loaded concept for me. I grew up moving around a lot and to this day can't give a clear answer to the question, "where are you from?" Having raised my children in Wilton, Connecticut and worked in North Jersey for over 30 years, I refer to anywhere within driving distance of New York City as "home." I've lived in Dallas with my husband and sons for eight years now and whenever I land at Love Field and step into our house, there is no question but it is home. Each summer we cross the bridge onto Seven Mile Island and Stone Harbor, and I know that I am home. The same thing happens when I pull into Waynesville, North Carolina–a place my father and Judith made home for all of us for so many years.
My friend Gina has a little sign hanging over her kitchen sink, from her daughter, that says "Home is wherever Mum is."  My son Will said that to me once, as we anguished over a move to Dallas in the middle of high school, and I carry his words in my heart every day. Home evokes such powerful emotions for me because, to my mind, it's where love is. It's where your soul is fed, your heart nurtured, your spirit comforted. It is where you find peace.
My son, in the back of a pickup truck, alone in California, looks up and feels something in his soul stir and says "time to go home to the mountains." The words, as well as the starkness of the picture, hit me so hard. He has come to feel at home on this trail and, more specifically, in these mountains, a place where I would be terrified to walk, let alone sleep. Why does that make me feel lonely?
I think it's because I know, with that little peek into his heart, that my world has shifted. His home is different to mine. He yearns for a place that is foreign to me, where I have no place. I have sheltered and shepherded him–maybe even more than my other kids, as he's the youngest and struggled in a different way–and all I've ever wanted, and prayed for, is for him to find his way, to find that passion that will drive him to tap his strength, his confidence, his brilliance. Maybe now he has.
It's a bittersweet notion, home. It takes us towards some and away from others. But maybe it is where we find ourselves best.
Be safe, Michael. Call when you can. xoxo