Test Run: Winding Stair Mountain Loop
It's April. Things are getting real, folks.
Two days ago, Michael asked me if it would be OK to take my/our Subaru to Oklahoma and do a two day "test" hike with all his new equipment. After what is now a familiar sequence of reactions (first "What? Drive all that way by yourself?" followed by a truncated version of Idina Menzel's "Let It Go, Let It Go!"), I said "sure thing."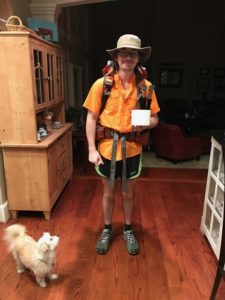 This is Michael, in full regalia. Yes, he's holding toilet paper, which presumably is going to find a place in his pack. Number Two Son Beau is having the same reaction I had when Mike walked into the kitchen at 4am, namely "who are you and what have you done with the other guy?" It's a shock to see your kid completely outfitted in stuff you didn't buy and have never actually seen put together all on one person before.
He's headed to hike Winding Stair Mountain Loop in the Ouachita National Forest in Hodgen Oklahoma.
http://www.backpacker.com/trips/tulsa-ok-winding-stair-mountain-loop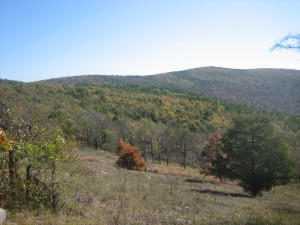 Here's what Backpacker Magazine says about it: "One of Oklahoma's best weekend trips, this 21.7-mile loop circles Winding Stair Mountain for an up-close view of the Ouachita National Forest's most scenic stretch." He's testing his equipment and making sure he has everything he needs. (Why does that concern me? Testing, by its very nature, suggests the possibility that he's out in the wilderness when he discovers that he doesn't. Doesn't it?)
I also found this Facebook page with lots of pictures from the trail, but was a bit afraid to explore the post too deeply, so I leave it here for you:
https://www.facebook.com/pages/Winding-Stair-Mountain-National-Recreation-Area/107915305896958
Sometime late last night it occurred to me that he's probably not going to be hiking with a whole lot of folks today, as its Tuesday, in April, and the forecast is rain. So this is truly a test run for both of us. I'm worried and he's prepared. He packed his old backpack (seems the new one has a belt under repair), loaded up with the clothes he's taking to California, stashed two of the dinner packets he's put together along with the requisite Snickers bars and Pop-Tarts, loaded up his new tent, new sleeping quilt, new trekking poles, new sleep pad, hopefully new bug net, rain kilt, and I didn't ask about the bear locker. Yes, don't ask.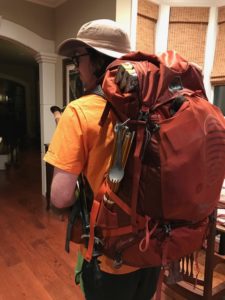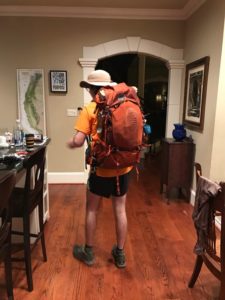 It struck me as bittersweet that the same person who is capable of orchestrating and executing all this–a son I'm watching go out into the wilderness on his own for two nights– also called me from work the other day to ask if it would be OK if he drove to Oklahoma for a two-night hike this week. Man/child. No wonder this is so damn hard.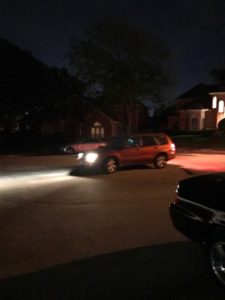 This is the first time I've ever sat down to my desk to write at 4:25 am. I feel like a writer or something.
I'll let you know when he and the Mine/Ours Subaru get home.